Big news, Florida shoppers!
Start enjoying secure grocery deliveries to your doorstep. Join Walmart InHome with HomeValet and get early access, special rebates on service. Restrictions apply. Limited service available in select Florida regions.
Shop online on the Walmart mobile app or website
Choose items eligible for store delivery and select Walmart InHome at checkout. Orders will automatically appear in your HomeValet app so you can track them to your Smart Box.
P.S. You can schedule all other deliveries in your HomeValet app!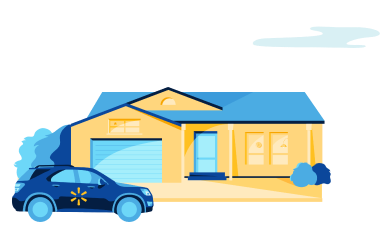 Your Smart Box is always ready for deliveries
On InHome delivery days, your Smart Box will pre-cool before a delivery associate unlocks and puts away your order. (Even when you're not around!)
P.S. Your Smart Box can accept deliveries from many other couriers!
Deliveries stay safe until you can get to them
Your groceries remain at just the right temperature and your packages stay secure. Monitor deliveries while you're away from home from the lid camera and lock your Smart Box from anywhere using the HomeValet app.
Not in Florida? You can still get better delivery.
Initially, service is limited to select locations north of Miami, Florida. If you don't qualify, you can still reserve a Smart Box with a $50 fully-refundable deposit.
Qualified Walmart InHome customers get HomeValet first!
We've partnered with Walmart to offer the best possible grocery delivery experience imaginable.
Early access customers will receive discounted Smart Boxes and rebates to cover Walmart InHome service for 1 year.
Fully Automated
Your Smart Box will automatically know when to unlock and cool down for Walmart InHome grocery orders!
Professional Associates
Friendly associates that are expertly trained to unlock Smart Boxes, process your returns, and ensure the best experience every time.
No Order Fees or Tips
No fees so you can enjoy the convenience of grocery delivery as frequently as you need it, even when you're away from home.
Easy Returns
InHome associates can pick up your Walmart.com returns — schedule it in the app, leave it in your Smart Box, and we'll take care of it.